Dr. Travis Phillips is a veterinarian in Seattle, and the medical director of Northgate Veterinary Clinic.
Book An Appointment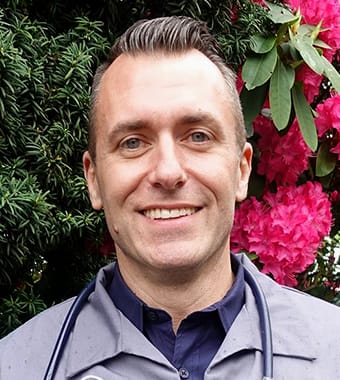 Dr. Travis Phillips
Dr. Phillips has been a team member of Northgate Veterinary Clinic since the summer of 2004 after earning his veterinary degree from Washington State University. He completed his undergraduate degree at the University of Washington prior to veterinary school.    He became the medical director at Northgate Veterinary Clinic in 2014

His special interests include soft tissue, orthopedic and laser surgery.
FUN FACTS
Hobbies: Snowboarding, golf, soccer, spending time with family
Pets:  Dozer, American Bulldog
Favorite Vacation: Scuba vacation
Favorite Word: Compassion
What makes you laugh?  My daughter
My ultimate goal is to educate each client about their pet's health and well-being and come up with a plan on how to keep their loved ones healthy and happy for a long time to come.